Asante Mariamu is dedicated to raising awareness about the ongoing human rights crisis impacting people with albinism in East Africa. We seek to teach people with albinism about the condition, so that they can better understand how to protect themselves from skin cancer. We also work to dispel the myths surrounding the condition to increase acceptance in society.
To provide direct relief, we raise funds and gather much needed sun protective gear and sunscreen. Asante Mariamu also seeks to empower people with albinism by providing opportunities for education so that they can become vital and valuable members of society.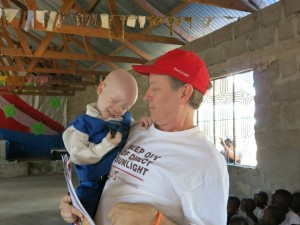 Our story began when we learned about Mariamu Staford, a young woman with albinism from rural Tanzania, who was brutally attacked in 2008. While sleeping with her 2-year-old son, Mariamu was attacked by two men who cut off her arms, hoping to profit from the gruesome trade in body parts of people with albinism. Her son was unhurt, and she survived the loss of her arms after spending weeks in a hospital. She bravely identified her attackers, who were arrested but never convicted of the crimes they committed. In a bitter twist, her village turned against her for "bringing shame to them" by seeking justice.
After a segment on ABC News show 20/20 highlighted her plight, volunteers from all over worked to bring her to the United States to receive prosthetic arms. Friends and family worked together to provide support, raise funds and awareness. We worked with a local member of Congress, Representative Gerry Connolly, to pass a House Resolution condemning the atrocities, and realized we wanted to continue our work on behalf of people with albinism in East Africa. Asante Mariamu Foundation was created as a result of this effort. 
Mariamu continues to inspire us with her work as an albinism advocate, and she now lives in Dar es Salaam, Tanzania.