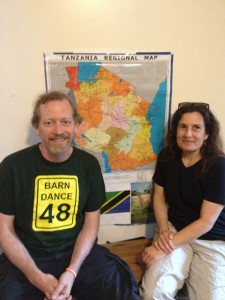 Asante Mariamu is comprised of people who are passionate about improving the lives of adults and children with albinism in East Africa. Our work is very serious, and we are dedicated to making a difference – however, we try not to take ourselves too seriously. The Board of Directors is an all-volunteer group who donates their time and expertise to furthering the mission of Asante Mariamu.
Dr. Beth Connors
Beth is a private practice audiologist with over 19 years of experience and a knack for getting things done. In 2012, she arranged for over fifty hearing impaired children in Tanzania to receive hearing aids through the Starkey Hearing Foundation. Beth is married with two children and is active in the PTA. In her spare time, she loves reading, yoga and training for triathlons.
Susan Leslie DuBois
Susan has been an attorney with the Patent & Trademark Office for over 20 years, and likes non-profit work a lot more. She has written numerous grants for non-profits, and was the principal author and editor of Raising A Child With Albinism: A Guide to the Early Years, published by NOAH in 2009. Along with fellow Board member and husband Doug, she has two children who happen to have albinism, but they think Asante Mariamu is just a coincidence. Susan loves to travel, garden and cook complicated meals.
Doug DuBois
Doug is a Program Analyst with the federal government with over 20 years experience. He currently works with GSA to increase small business participation in government contracting. Doug also served on the Board of Directors for the National Organization for Albinism and Hypopigmentation from 2006 – 2012. He loves music, reading, traveling and following sports with his son.
Mary Filicetti
Mary could be called the most useful person in Asante Mariamu, as she is a teacher of the visually impaired, and a Certified Orientation and Mobility Instructor for Fairfax County Public Schools and Columbia Lighthouse for the Blind. A shared passion for the field brought her to Asante Mariamu, and Kabanga School in Tanzania. She is active in her church, Westminster Presbyterian and is part of a Hawaiian dance ensemble.
 Zuraidah Hoffman
An accomplished triathlete, mom of two and public relations whiz, Zuraidah has been with Asante Mariamu from the very beginning. Originally from Malaysia, Zuraidah has more than 20 years experience in the communications industry, and is currently a senior communications advisor for the National Rural Electric Cooperative Association.
Paula Levin-Alcorn
Paula is a licensed clinical social worker, specializing in the fields of maternal and child health, brain injury and immigrant issues. She is currently a Case Manager at Brain Injury Services, but has more fun as a children's yoga instructor. She serves on the Board of Directors for the Congregation Etz Hayim, is active in PTA and other area organizations. Paula has a Masters in Social Work from the University of Maryland School of Social Work; and lives in Arlington, VA with her husband Bob, and three active children.
Diane Vogel
Diane is an attorney specializing in civil rights, education and government grants, who transitioned to journalism in the late 1990s. For the past decade, she was the Managing Producer of Washington D.C.'s award-winning midday public radio show, The Kojo Nnamdi Show. Now a media trainer and consultant, Diane brings her vast list of contacts together for the common good. Diane lives in Arlington,Virginia and loves to travel, and enjoys bowling with friends and scuba diving.
Elizabeth O'Dell Wehling
Liz is the fresh-faced dynamo who reminds the rest of us what it's like to be 20-someting and on fire to change the world. A long time member of NOAH, Liz has her Masters in Education, and served two terms as an Americorps VISTA, and is now the Assistant Director for Reunion Giving at Cornell University . Liz loves country music, her dog Buttercup and her husband Will – and is proud mom to Amelia Jo and Gabe.