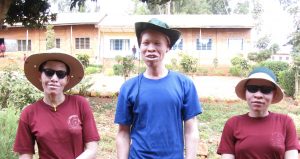 Access to an education is the single most important way to empower a child with albinism – please consider sponsoring a student.
Access to education is a primary goal of Asante Mariamu, and we work to provide opportunities for children with albinism to attend school. This can mean providing scholarships for students with albinism to attend a private school, or continue on to secondary school or beyond. Our donors support 24 students in Tanzania and Uganda for as little as $500 for an entire year. Sponsoring a child's education is one of the most important things you can do to help.  Click the red "Donate" button on the right to sign up.
Educational Support
Support can also mean simply giving kids their own low vision devices, like monoculars and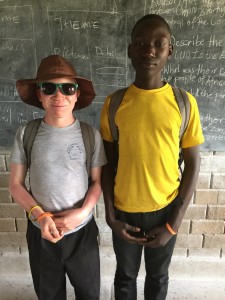 magnifiers, so that they can better access printed material and see the chalkboard in a classroom. We make sure each kid has We also provide practical solutions to help those already in school succeed by training teachers how to work with low vision students. This includes where to sit in classroom, what kinds of printed materials work best for low vision students and optimum lighting. Students with albinism have just as much potential as any other student – they just need the right tools to succeed.
Vocational Training
Asante Mariamu recognizes that a formal education is not practical or possible for everyone with albinism. That is why we also focus on developing and supporting vocational programs and job training. Raising poultry, tailoring and commercial knitting are three areas where Asante Mariamu has made a commitment to help people with albinism develop skills to support themselves.