Asante has worked in Uganda for four years, and we've developed strong partnerships on the ground through our work with Arlington Academy of Hope. One of our amazing partners, Naomi Muganwa, has been organizing Albinism Awareness Clinics for the last three years, and helped us plan and run skin cancer screenings last spring, where we saw over 500 people with albinism.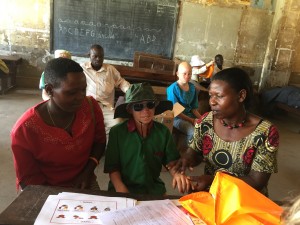 She told us this story last week:
"I received a call from the parents of a child with albinism from our region. They were very concerned because a neighbor had shaved off some hair from their child. I immediately reported the matter to the police and went with Fred (a local man with albinism) to talk to the villagers. 
At first the culprits did not take us seriously, but as a social worker and an advocate for the vulnerable persons authorized by the government, we were able to explain in detail the issues surrounding albinism and the consequences for their actions. They declared that they were instructed by the witch doctor to secure the hair from an albino to generate for them riches!
We managed to sensitize them and they promised not to do it again.  After the police intervention, we continued back to their home and involved the local council members. I believe the action taken had an impact. The police caution that any further similar attacks on people with albinism will be dealt with in accordance with the laws of Uganda."
Bravo, Naomi! Thank you for your tireless work on behalf of people with albinism in Uganda.