Update: As of March 2016, Asante Mariamu has delivered over 600 Rafiki Packs to students in Tanzania and Uganda!
Kids with albinism need to be safe and healthy to succeed in school and life. Simple items like sunscreen, sunglasses and bucket-style hats can protect them from skin cancer; and basic low-vision devices like magnifiers can help them access print material in school. These items are out of reach for most people with albinism in East Africa: not only are they too expensive, but also these items are not easily available. Asante Mariamu has developed a program to get these basics into the hands of kids with albinism in rural Tanzania and Uganda.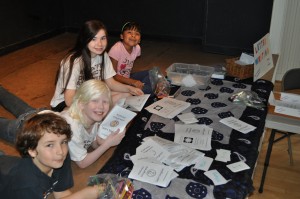 The term "rafiki" means "friend" in Swahili, and we are hoping to encourage our donors to feel more connected to kids in East Africa by sponsoring Rafiki Packs for specific children. A Rafiki Pack is a small backpack filled with vitally important items for kids with albinism: a long-sleeve shirt, a brimmed hat, sunglasses, pens, pencils, sunscreen and a magnifying device. Each pack also includes a short note from a friend of Asante Mariamu, and a small toy for really young children. The packs also contain educational material about albinism, and how to stay safe in the sun. We are distributing these packs in Uganda and Tanzania through our partner organizations, and in person on volunteer trips.
Each Rafiki Pack costs approximately $50 to assemble, and we try to defray those costs by gathering donations at Sun Drives. You can sponsor an individual Rafiki Pack, or help us gather the necessary items by hosting a "Sun Drive." For more information about how you can help us provide Rafiki Packs, see How to Help.